A brand-new UNESCO World Heritage Site with the world's oldest Jewish wedding ring
Dive into the culture of the Ashkenazi communities of Old Europe, discover or unique Jewish Heritage, 700-year-old wedding traditions and learn all about one of the most important jewels in Jewish history.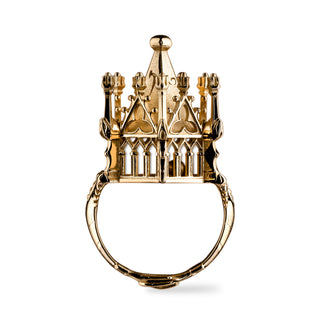 Your own piece of history
Our golden heritage becomes your golden future
OUR ASHKENAZI TRADITION
The Jewish wedding ring takes the form of a miniature building, symbolizing the lost Temple of Jerusalem. Manufactured in the 13th century, it represents one of the oldest Jewish traditions. Such opulent rings were likely used solely for the ceremony, in which remembrance of the Temple played a vital role.
The ring was buried in 1349 and rediscovered after 649 years. Today it is considered to be the oldest and most important Jewish wedding ring. It has been exhibited in major museums, such as THE MET in New York. The reproductions are now part of Jewish weddings again, in order to bring this old Ashkenazi tradition into the modern age.